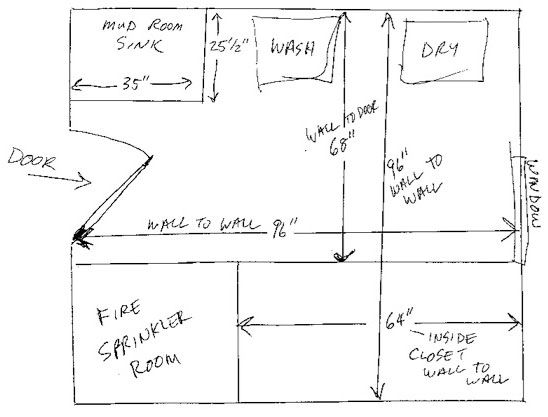 STEP 1: INITIAL DESIGN CONSULTATION
Our first step is gathering the necessary information to fully understand your project and to be able to provide an estimated project cost. We are happy to do this via email, in person, by phone, or video conference. We will discuss how you plan to use the space based on your lifestyle and future needs, and walk you through some available options.
Budget: It is always very helpful to know budget requirements, even a rough number is a good place to start. There is no benefit in us designing a $50,000 kitchen if your kitchen budget is $20,000. We want to be sure what we design fits in the budget and then we can adjust and upgrade as you desire.
Target delivery date: Let us know your target date and we will work with you and your builder to schedule delivery and installation.
Design Ideas: Any design ideas, inspiration photos, sketches, list of must have features, appliances and plumbing if known.
Dimensions: Architect drawings, approximate measurements, or sketch of your project.
If you are not working with an architect or don't have blueprints, a basic sketch like the one below will do just fine. We simply need the overall floor plan with location of windows, doors, or other fixed objects.
STEP 2: ESTIMATE AND PRELIMINARY DRAWINGS
Using the information gathered from our initial meeting we will prepare an estimate and preliminary set of drawings.
Cutting Edge manufactures the highest quality cabinets, custom made for your project. Our estimate will always give you our best price, no haggling required. We are happy to run through any "what if" scenarios regarding cabinet materials, finishes, or upgrades and get you alternate pricing.
Estimates and drawings get very detailed and now is a great time to schedule a meeting, whether by phone, video conference, or at our showroom to go through them and answer any questions.
Once you have reviewed this initial proposal and are ready to move forward, we will need a check for the deposit amount shown on the estimate to cover design fees and cabinet samples.
STEP 3: DESIGN
Drawings: Your Cutting Edge designer will create detailed, accurate plans with multiple elevations and 3D renderings that will provide you with a comprehensive view of your project. To move through this phase, we will need to get your appliance, plumbing, and specialty hardware specifications if you have not shared them already. Our team will assist you as necessary in deciding what fits with your overall design. Putting custom cabinetry in your home is an exciting experience and we encourage your questions and feedback during this process.
Samples: All Cutting Edge cabinetry is available in a nearly unlimited range of woods and finishes. Whether you already know the wood species and door style or decide these as your final design takes shape, we will provide you a sample of each door to touch and feel, coordinate with your flooring, countertops, trim, paint, etc., and a second sample for us to use as the control sample in manufacture of your cabinets. We want you to know your cabinets work with the overall design of your home. And we want to be sure you get exactly the door style and finish you selected.
Hardware: Once your door styles and finishes are dialed in, we are happy to coordinate and provide decorative and functional hardware to help make your cabinets really come to life. We take time to consider how the hardware finishes will play into your home, perfectly size each piece of hardware to your cabinet doors and drawers, and lay it all out in a way that works just right with your overall design.
Field Measurements: We will schedule an on-site visit to take precise field measurements to be sure your design fits perfectly in your space. We will need to know when ALL framing, including rough plumbing and electrical, is complete for final measurements to be taken. Once the house is framed it helps to have regular construction progress updates from you or your builder in order to coordinate the completion of cabinets with the date your house is ready for installation.
Final Design Approval: Once your design drawings are complete a final meeting, whether in person, by phone, or video conference, will be scheduled between you and your designer to review your cabinet project from start to finish. Measurements, materials, finishes, selected options, and pricing will all be verified. We will then request your final sign-off and a check for 50% of the total purchase price to begin production.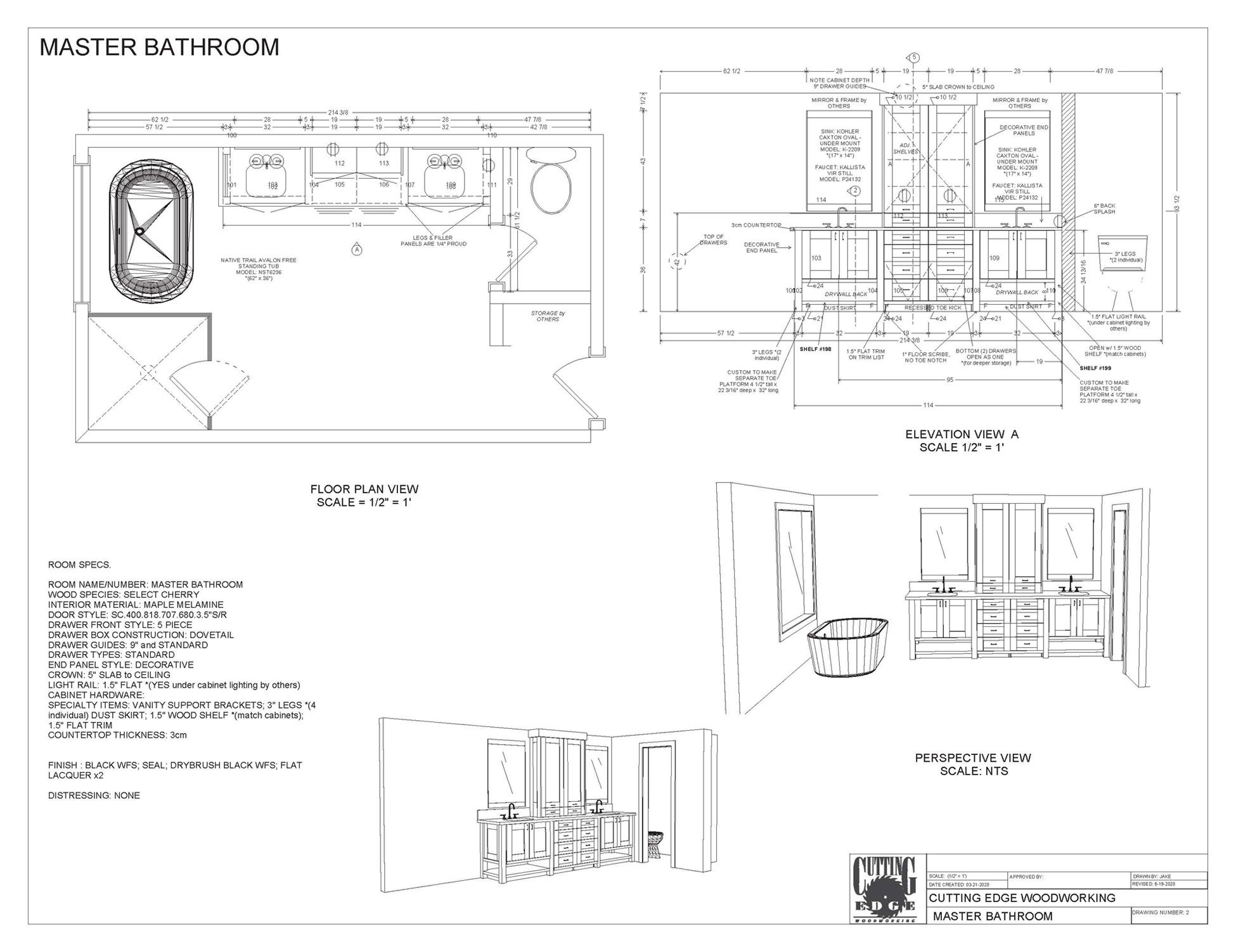 STEP 4: PRODUCTION
The approved design drawings will be used to engineer and manufacture your custom cabinetry. Cutting Edge Woodworking is a 36,000 square foot state-of-the-art shop in Leadville, Colorado. Your cabinets will be precision milled on our CNC cutting machine. All staining, glazing, and distressing are completed one door at a time by hand. Each piece is then assembled, inspected by our Quality Control department, and released for delivery or stored in our own warehouse until ready to be installed.
STEP 5: DELIVERY AND INSTALLATION
Cutting Edge employs its own drivers and fleet of delivery trucks. Each cabinet piece is wrapped to protect against damage during transport.
Final payment of your remaining balance will be due at or before time of delivery.
We recommend installation by Cutting Edge as homeowners are spared the headache of having a large number of pieces arrive on site that don't make sense to other installers. Our Cutting Edge install team review each project with the designer and know precisely what goes where to make the finished product shine.